According to an article in the Chronicle of Philanthropy, the latest Council on Foundations survey found that salaries for staff members increased 8% from 2011 to 2015, just slightly more than inflation.  However, a further breakout of that median increase revealed that salaries for program officers rose only 2%, while those for foundation CEOs rose 14% over those 4 years.  The new study calculated the rates of increase using responses from 460 foundations that responded to prior surveys.   The complete report is available from the Council on Foundations, but unless you are a COF member, it will cost you $359.
Here are a few key findings:
The median salary for foundation chief executives was $166,000 in 2015. For program officers, it was $85,000.
The type of foundation matters – family foundations reported the highest median staff compensation and community foundations the lowest.
Most foundations in the survey (88%) increased salaries in 2014, and almost 80% planned increases in 2015.
About 59% of CEOs were 50 to 64 years old and 19% were older.
At least one conclusion can be drawn from these data – there are changes in CEOs coming, judging from the ages of the current foundation leaders.  And when the time comes to set salaries for those new leaders, detailed data will be necessary to set market rate salaries that will meet IRS requirements and provide justification to those who care about the foundation.
The factors that influence compensation levels for nonprofits typically include type of nonprofit (e.g., grant making foundation, human service provider, art museum) and size (typically annual revenues for charities, but assets in the foundation world).  Geography can also be an influence – for example, are the other organizations competing for this talent at a local, statewide, or national level?
To illustrate, ERI's Nonprofit Comparables Assessor has been used to calculate average compensation (plus the 25th and 75th percentile to indicate the range) reported on Forms 990 PF by all foundations, shown below.  The table lists average CEO salaries for small ($2.5 million in assets), medium ($25 million in assets), and large ($250 million in assets).  The data reveal that the average compensation varies widely by size of foundation, but there is also a geographic difference.  Compare the average US foundation CEO salaries for similar-sized organizations with those at foundations based in California and in Michigan.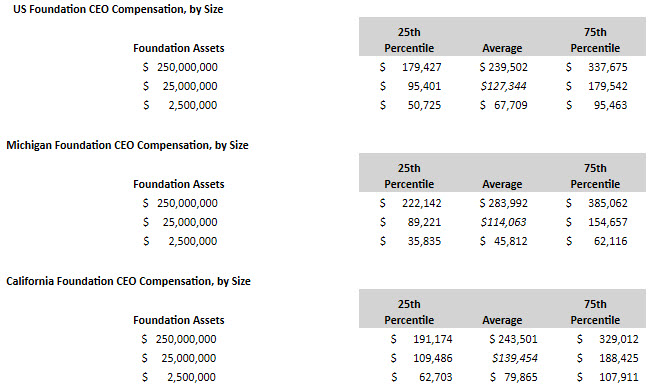 The conclusion is clear – only using detailed criteria to select comparable organizations will yield the data necessary to determine and document the market rates for a foundation CEO.  ERI's  Nonprofit Comparables Assessor easily provides the necessary detail (actual Form 990 data for all organizations that meet the selected criteria) that is needed to make sure that compensation is reasonable.  Using a compensation average that may include foundations of different types and of different sizes and in different geographic locations is just not specific enough – and average increases are even less useful. See my October 2015 blog if you want to know more on that subject!
Collect and use the data that IRS wants used – it leads to fewer problems from charity regulators and fewer questions from the media, funders, and charity watchdogs, and even the foundation CEOs themselves!