Schedule Time with a Representative
We'll answer your questions and demonstrate our products

Learn with Our Webinars
Regular webinars on our Assessor Series Applications

Data Collection
ERI gathers data from 3 types of sources: surveys we conduct ourselves, surveys we purchase from other organizations, and reports from publicly traded organizations, such as proxies and 10-Ks.

Data Verification
After collecting the data, we conduct QA to ensure the data flowing into the analyses are of the highest quality.
Some examples of QA tasks are job matching by trained analysts, interviewing participants to double-check data that do not fall into parameters, and inspecting data to identify issues such as keying errors or misclassifications.

Analysis
ERI conducts advanced analytics to accurately capture the full scope of an occupation and how it exists in the economy.
ERI is committed to using the best analysis for a given statistical task, including machine learning, meta-analysis, and regression.
These analyses have been validated against independently collected market data.

Quality Assurance
ERI analysts double-check the results for every job every quarter.
This process allows us to be confident in the data we publish.
ERI Results
The end result is a carefully curated dataset that reflects compensation rates with an unparalleled level of accuracy.
ERI provides a comprehensive database of compensation for over 8,000 job titles, 1,000 industries, and 9,000 locations.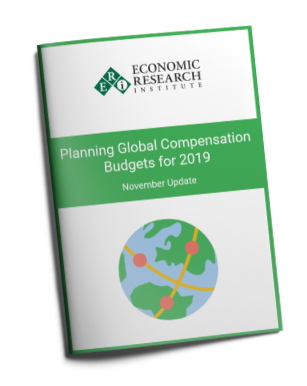 Plan Compensation Budgets for 2019
With our free white paper on Planning Global Compensation Budgets for 2019
Claim Your Free Whitepaper
Testimonials
"ERI Economic Research is undoubtedly the most accurate salary provider of salary information in the world"
Ben Kaiser
Compliance Analyst
Costco Wholesale Corporation
"We really needed a solid data tool to make sure that we were converting our ranges for where they were. And we knew that we could do that with ERI. What I love most about ERI is just the simplicity"
Jodie Kelley
Compensation
Plains Capital Corporation
"It is by far the the best market compensation tool I have ever used. Again, it is a WONDERFUL product."
Denise Flournoy
Director HR and Compensation
Ruby Tuesday

Try All of Our Software Now
Access a small portion of our data and experience our Assessor Series at your own pace

Get HR Certified
Earn credits for WorldAtWork, NASBA and more