Organizations are faced with two business imperatives: global competition and constant change.  To respond and seize market opportunities, organizations need to deftly identify their workforce talent who can be mobilized in a timely manner.   One way that HR professionals and business leaders can navigate this decision making process is by leveraging the knowledge amassed on job content collected by job analysis.
Formal or informal job analysis is a fundamental strategic core competency for human resources professionals. The job content ascertained from a job analysis provides line of sight to specific job responsibilities, business context, and connections with other jobs.  The end result usually is a job description, which most of us have relied upon for a host of different reasons.  Whether your professional focus is employment law and compliance, people and culture, or total rewards and performance management, having knowledge and access to job content information is essential.
Collecting job content information from scratch can be a very ambitious objective.  For a basic understanding of the jobs and a consistent use of terminology that can be understood by your stakeholders, leverage the benchmark job descriptions available from your compensation survey partners.  You can then supplement this information for various purposes.  Using a Human Resource Manager job, the examples that follow explain how the job content, depending on the purpose, can evolve.

Benchmark Job Descriptions
The organizational process of selecting survey sources, matching jobs, and applying the survey results to design compensation programs will generally require cross-functional collaboration with key stakeholders.  The process of job matching will involve analyzing these benchmark job descriptions in order to gain insight into the differences between the internal job duties and responsibilities.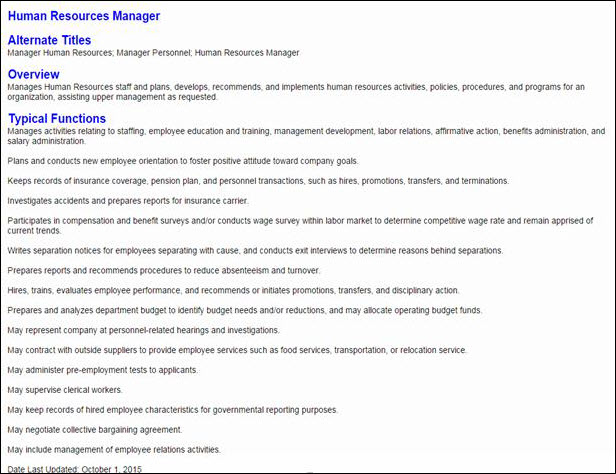 (Image: ERI's Salary Assessor benchmark job description of Human Resources Manager)
Internal Job Description
Internal job descriptions are relied upon for many uses, such as setting performance standards, training plans, career development plans, staffing decisions, and organization development.  These descriptions communicate the details of jobs to many stakeholders.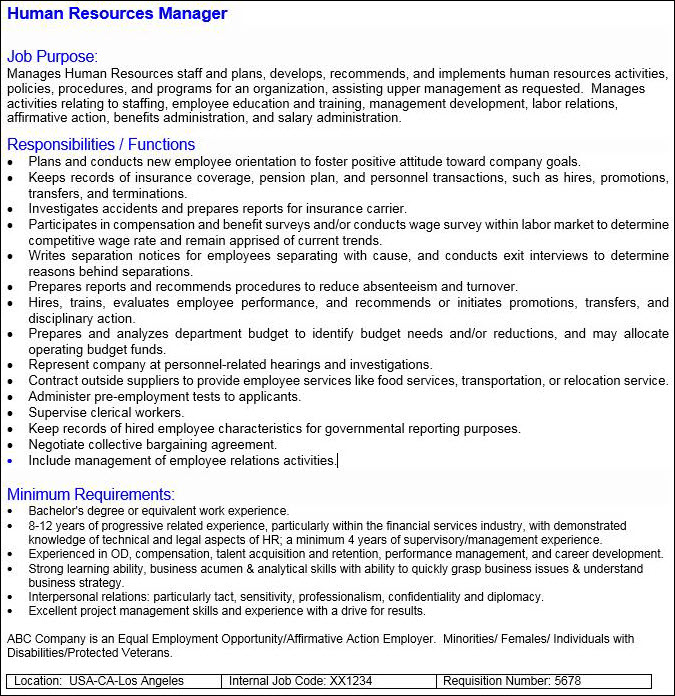 (Image: ERI's Salary Assessor benchmark job description supplemented with minimum requirements, work location, job code, and requisition number)
Most organizations collect additional job content information that explains the allocation of effort and time spent on specific duties and responsibilities. The use of this data has far reaching implications, such as automation, mentoring and coaching, organization effectiveness, compliance, and FLSA overtime exemption assignment, to name a few.   Below is an example of a detailed analysis of duties and responsibilities of the Human Resources Manager job: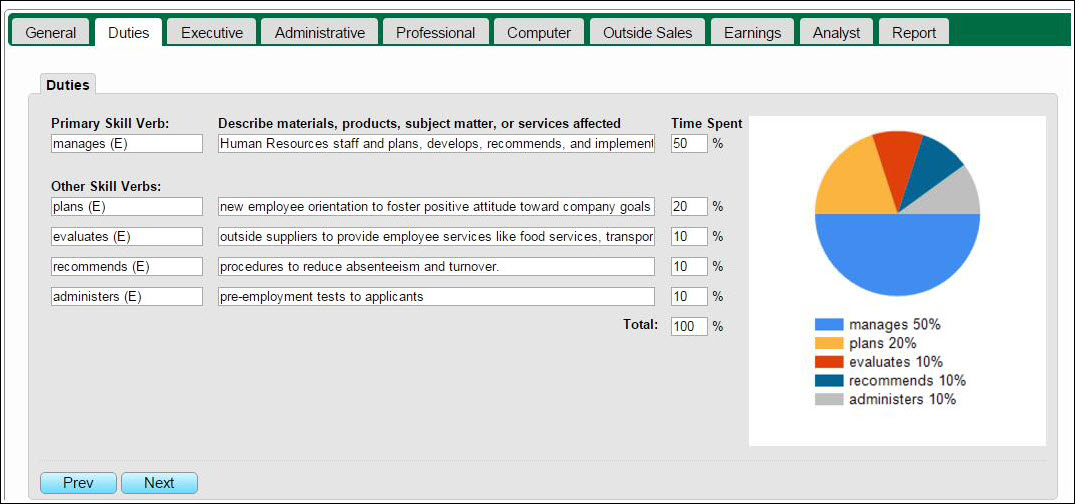 (Image: ERI's Occupational Assessor)
Job Postings
Job postings advertise the employment opportunity to a targeted labor market, providing realistic job and work environment expectations.  Below is an example of a job posting for a Human Resource Manager: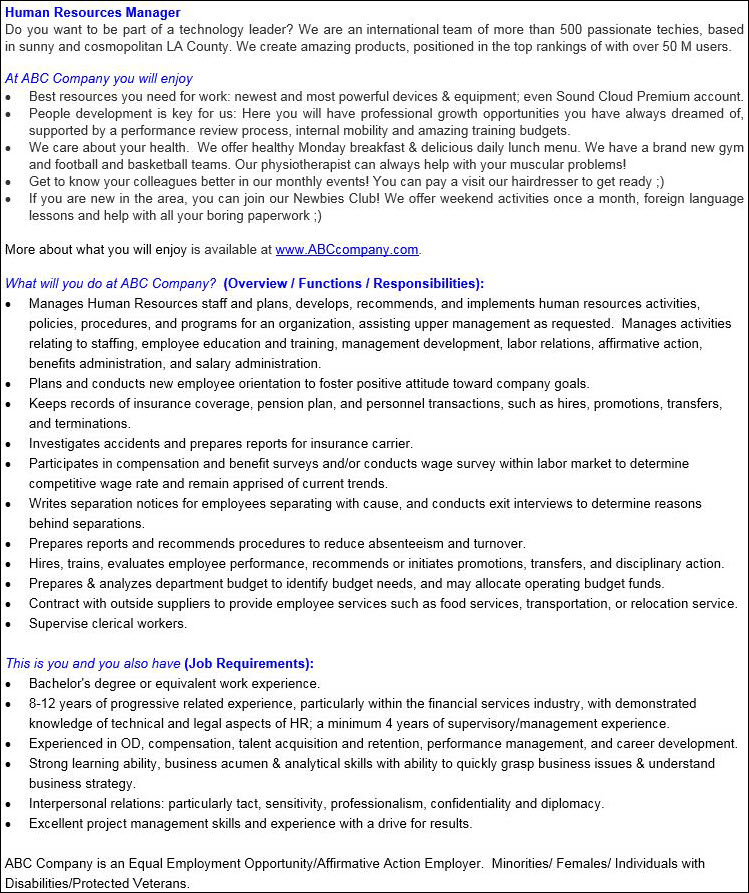 (Image: ERI's Salary Assessor benchmark job description supplemented with details pertaining to work environment, organization culture, minimum requirements, business description, company website, perks, and benefits)
Jobs and the information pertaining to their impact on the organization's value chain should be easily understood and accessible across the organization.  Creating an effective and efficient process to make decisions about the talent in your organization, an understanding of the cross functional relationships between jobs will be invaluable to the organization.  It is important to have standardized tools and credible baseline information upon which to build these processes.
To access a more detailed complimentary course on Job Analysis, visit our website, www.erieri.com, or call our "best in class" service team at 1-800-627-3697 for further assistance.