The decision to rent or own in a new city is often a key concern to relocating employees.  Heightened awareness continues to be stimulated by recent headlines of rental prices increasing and tight vacancy rates. Compensation, HR, and mobility professionals require accurate housing data to provide useful cost-of-living metrics to relocating employees and to contribute to analysis used by management in business decisions. The Relocation Assessor datasets provide in-depth comparisons needed for these multiple uses.
Below, we provide a detailed analysis for assessing the rent/own trade-off in ten high-growth locations of interest to ERI Economic Research Institute subscribers.  The analysis focuses on the percent of the annual earnings ($100,000) that the rent verses own decision consumes.  As a further refinement, the Relocation Assessor datasets allow customized area aggregations that distinguish housing costs between the city itself and the entire metro area. The metro areas for each city contain locations desirable to management and professionals within 25 miles of the center of the city.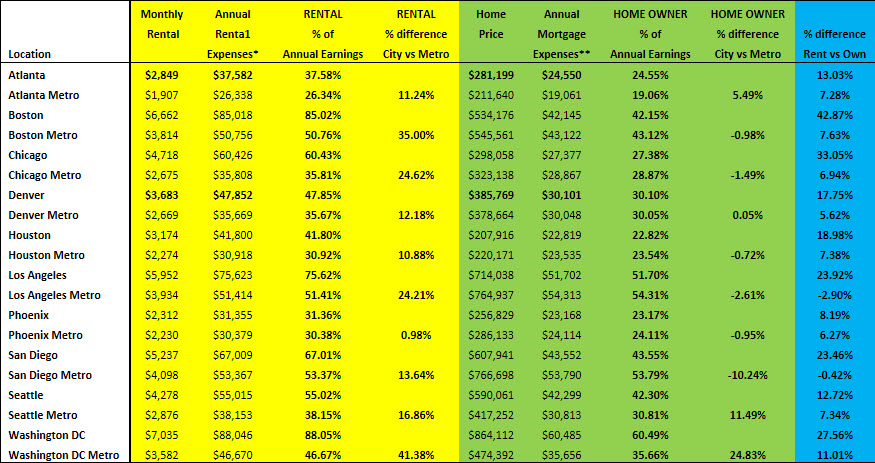 In all of the ten locations, renting in the metro area requires a smaller percentage of income allocated to housing than to rent within the city itself.  As an example, we see that, in the Washington, DC, metro area (which includes locations desirable within DC city limits, northern Virginia, and Maryland), it is 41% less expensive to rent.  In Phoenix, however, this difference is only 1%. The other locations fall between Boston/Boston Metro at 35% and both Atlanta/Atlanta Metro and Houston/Houston Metro at 11%.
The home ownership data highlights a different result:  In only three cities (Atlanta, Seattle, and Washington, DC), it is more expensive to own within the city limits than in the metro region.  It is somewhat more expensive to be a homeowner in the metro areas of Boston, Chicago, Houston, Los Angeles, Phoenix, and San Diego. In Denver, the city and metro area costs for home ownership are approximately equal.
The final column of the table is useful to compare the decision of renting verses owning within the location. Only in Los Angeles and San Diego is it (slightly) cheaper to rent than own.  The results for the remaining locations suggest home ownership is the better option (This analysis assumes a 20% down payment in the homeownership data.). It is clearly more cost effective to own than rent in Boston, Chicago, and Washington, DC. For 8 of the 20 locations (Atlanta Metro, Boston Metro, Chicago Metro, Denver Metro, Houston Metro, Phoenix, Phoenix Metro, and Seattle Metro), the choice to own over renting saves less than 10%.  Renters in Boston, Chicago, and Washington, DC, pay the highest premium over owning for their choice (42.87%, 33.05%, and 27.56%, respectively).
A granular understanding of housing data can assist professionals in providing accurate cost-of-living differentials for both management decisions and relocating individuals.