A global, diversified, conglomerate company is characterized as being a business entity with several combined operating units having distinctly different businesses that fall under one corporate group.  Sometimes these organizations are structured as holding companies with many subsidiaries operating in multi-industry and multinational business contexts.  From a compensation perspective, the total rewards philosophy and any equity compensation programs will be closely managed at the corporate level.  Compensation benchmarking needs requiring access to many industry-specific data sets across international areas may often be decentralized at the subsidiary or business level.  Alternatively, benchmarking may be consolidated in shared services centers of excellence with compensation experts responding to the needs of business units.
ERI's Salary Assessor and Geographic Assessor are "go-to" compensation benchmarking tools for global, total rewards leaders, providing compensation solutions that are competitive and aligned with longer term total reward strategies for global conglomerate companies like Berkshire Hathaway, Koch Industries, GE, and The Walt Disney Company.  Let's continue this discussion, taking a closer look at Berkshire Hathaway.  Below is the list of Berkshire Hathaway companies from the company website: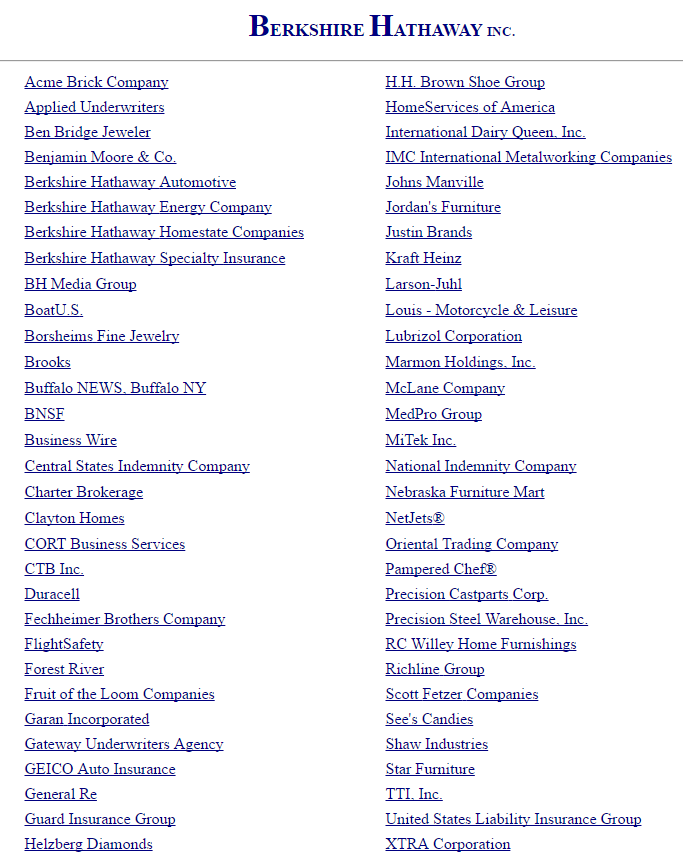 Berkshire Hathaway operates businesses in brick and steel manufacturing; jewelry, furniture, and chocolate retail (durable and non-durable goods); and the insurance sector, to name a few.  A total rewards leader will need many industry-specific cuts of data and must be able to access data for various geographic areas to meet the compensation benchmarking needs of a company like Berkshire Hathaway.  Having the right industry data requires evaluating and selecting industry data sets that are most appropriate for your benchmarking needs.  Generally, it is important to select an industry sector that will have a reasonable sample size to have confidence that data is valid and to ensure that the job matches are reliable.  Let's take a look at the degree of industry specificity available in ERI's Salary Assessor using the Berkshire Hathaway example.  Below are industry selection menus for manufacturing, financial services, and retail: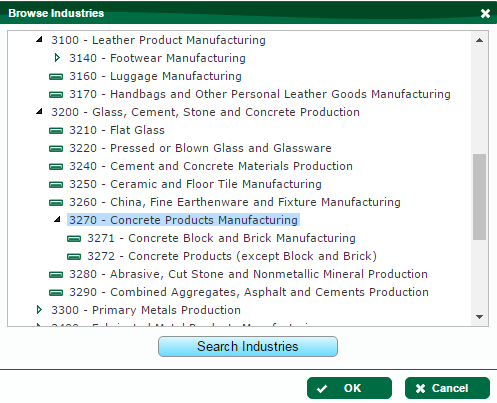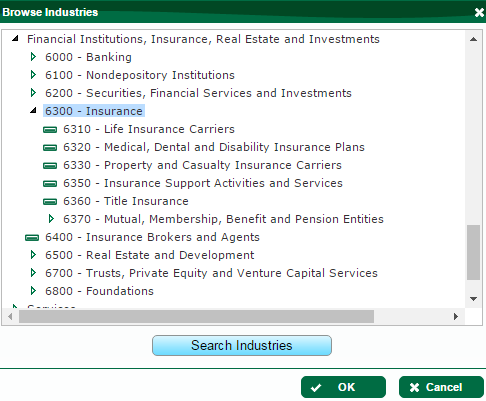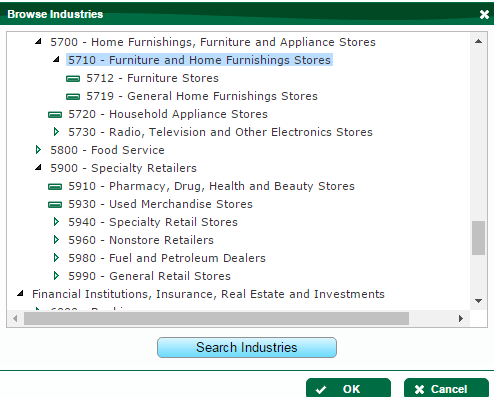 The brick manufacturing and related industry data are part of the concrete products manufacturing sector.  Included in the brick industry are also block manufacturing companies.  Notice there is a separate cement and concrete material production (e.g., the raw material for the manufacturing process).  The insurance sector has several industries with very distinct labor markets, namely life, medical/dental/disability, property and casualty, and title insurance.  The retail sector has many broad and niche industries.  For retail furniture, there are two shown: furniture stores and home furnishings.
In addition to industry diversification at global conglomerates, there are numerous operating business units across various geographic locations.  Getting geographic-specific labor market data is important, especially for strategic decisions to establish a new business in a new location, when labor costs are a key determinant, or when the labor market for external hiring is tied to local labor markets, like operations staff for retail and hospitality industries.
Let's build on the retail furniture industry example and look at locations for Berkshire Hathaway's subsidiary, Jordan's Furniture, that includes seven stores in the U.S. Northeast, covering Massachusetts, New Hampshire, Connecticut, and Rhode Island. We will benchmark data for Furniture Sales Representative.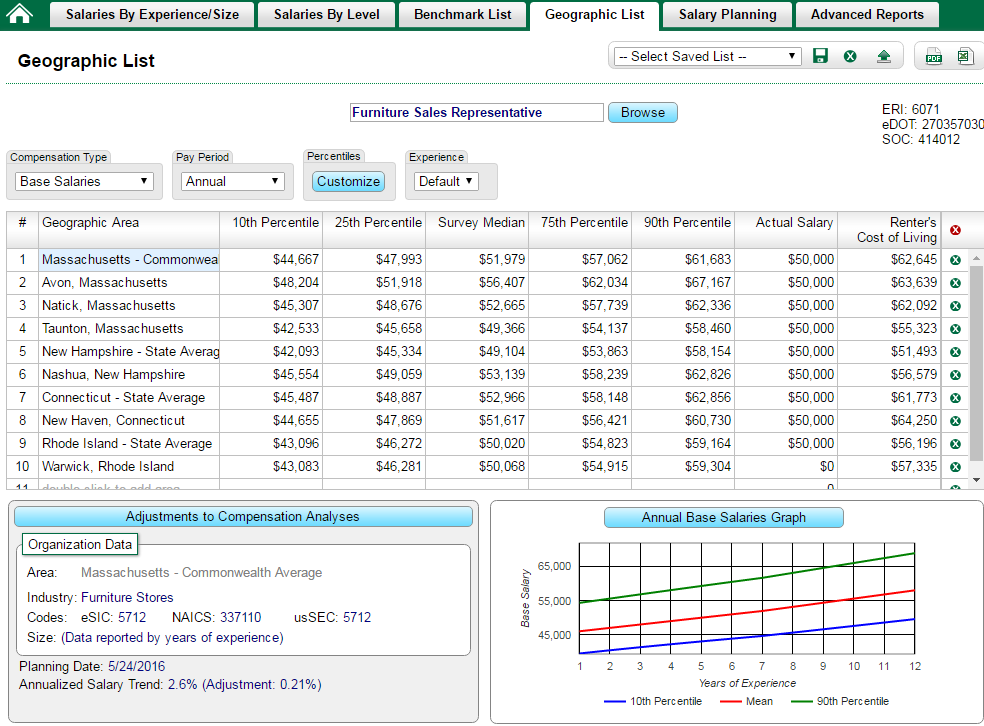 In this example, we have created a list of geographic areas which includes the state average and the specific city or town of the store locations.  From this type of benchmark analysis, you can draw a number of meaningful insights:
Labor cost in Avon, Massachusetts, is the highest across all locations.  Your leadership will find it helpful to understand this differential relative to profit margins and cost of sales.
Although Connecticut on a statewide basis will generally have higher labor costs than Massachusetts, New Hampshire, and Rhode Island, the labor costs for the New Haven, Connecticut, location is lower than the Nashua, Avon, and Natick locations.
Most conglomerates have a long-term approach to their business strategies and will invest to establish a sustainable market presence and leadership in the different industry sectors in which they compete.  The other unique attribute for most global conglomerates is their strong internal labor markets.  This means that most of the external hiring will be for entry-level employees, which in turn are trained and developed to establish an internal labor market pool of qualified candidates for future staffing needs.  Their total rewards programs will generally be above-market, with  financial rewards like long-term incentives, equity, non-qualified deferred compensation, and retirement plans.  Whereas their cash compensation will generally be market average unless they are establishing presence in a new market and externally recruiting thought leaders or "heavy hitters."  Non-financial rewards may include continuous learning, career growth, and international assignments.  With this type of total rewards philosophy, global conglomerates will generally benchmark cash compensation to ensure they remain competitive relative to the market average.
Companies with internal labor markets make significant investments in their employees' training and development and want to minimize employee turnover.  In order to keep a pulse on the competitive pay levels that affect your organization, it is important to develop compensation benchmark reports that are reviewed on a consistent and periodic basis.  One type of report that will help with the periodic review of compensation structures is a comparison of salary level midpoints and labor market differentials.  Let's continue this topic building on the Berkshire Hathaway example.

The above analysis shows the salary structure percent differentials for four states relative to Omaha, Nebraska, as the base city for comparison (since it is the location of Berkshire Hathaway's corporate headquarters).  Reviewing this report on a recurring basis with real-time data can invaluable.  The more competitive the business environment, the more frequently you want to monitor the labor market pay levels.  This type of report can be generated and reviewed on a quarterly basis with updated geographic differentials for specific labor markets.
HR leaders in global conglomerates manage HR programs that heavily invest in talent.  The total rewards programs for these companies are more comprehensive, having both financial and non-financial programs.  Compensation benchmarking in global, conglomerate organizations requires industry-specific survey data that cover many geographic locations.   ERI's compensation analytic solutions are invaluable tools for HR and total rewards leaders.  ERI's Salary Assessor and Geographic Assessor provide access to over 1,200 industries and over 8,000 cities.  For more information about industry-specific survey data for the various geographic locations where you have operating businesses, call us today at (800) 627 3697, and one of our best in class service team members will assist you.