Global human resources and total rewards professionals provide business insight for geographic labor market differentials that impact their business operations.  Now you can expand your arsenal of benchmarking tools to include geographic labor differentials for 60 cities across Ireland, Finland, and Switzerland.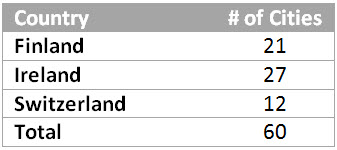 Many organizations compete in the global "war for talent" by hiring employees that may work remotely from anywhere, like their homes, a college dorm rooms, or as contingent workforce partners also in remote locations.  Part of being successful in the competition for talent is to do it cost effectively.
Here's how geographic labor market differentials help.  For example, you have corporate offices in Helsinki, Finland and found a great candidate who lives in Joensuu, Finland.  Understanding the cost implications of these two work locations both from a cost-of-labor perspective for the company and cost-of-living perspective for the prospective employee is very meaningful.  The compensation analytics below explain the scenario.
Image #1:  ERI's Geographic Assessor (GA) – Two City Comparison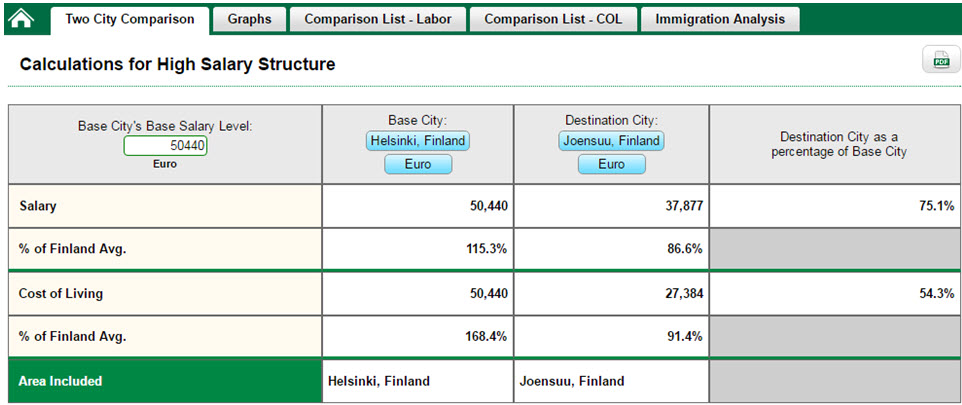 Based on this information, labor market costs in Joensuu, Finland are almost 24.9% lower than in Helsinki, and the cost of living is 55.7% lower in Joensuu.  For this candidate to move to Helsinki and maintain the same standard of living can be an expensive proposition for the candidate.  It will also be an uphill battle for the company to convince the candidate to move to Helsinki.  Alternatively, a win-win outcome would be to allow the this employee to work from home and make accessible the necessary technology to be connected with his or her work teams.  Most organizations will have a business philosophy and formal policy to support the effectiveness of a workforce strategy that include remote workers.  Costs efficiencies are one of the critical inputs.
Insight into geographic labor market differentials is also used when organizations restructure to setup centers of excellence with shares services.   Organizations look to more effectively run their business operations by centralizing specific functions in targeted geographic locations.  For example, many of the enabling support functions, like IT, finance, or human resources, will set up shared services centers to respond to business needs.
For example, a business scenario with a company headquartered in Dublin, Ireland wants to set up a human resources shared services center.   They want to have a new location outside of Dublin within reasonable distance and have identified Carlow, Ireland as a target location.  Understanding the geographic labor market difference between Dublin and Carlow will provide insight into this business decision.
Image #2:  ERI's Geographic Assessor (GA) – Comparison List

Based on this analysis, Carlow is attractive from a cost-of-labor perspective relative to Dublin.  The tables display a comparison of labor differentials for Carlow relative to Dublin at various salary levels.  Notice also for some of the higher paying positions at the $42,720 and $64,080 salary levels, the geographic labor market differentials are 14.5% and 14.8% lower than Dublin, respectively.
Labor costs continue to be one of the biggest line items on a company's financial statement.  It can be invaluable for HR and total rewards leaders to have the tools to present business solutions that reliably estimate the financial implication.  ERI's diligence in geographic labor market data collection and analysis results in robust and reliable compensation analytics not available elsewhere.  We continue to enhance our benchmarking solutions to meet the evolving demands of subscribers.  For more information about geographic labor market differentials and compensation analytics, give us a call today at 1-800-627-3697, and one of our Subscriber Services team members will be available to assist you.