A recently published Nonprofit Research Collaborative (NRC) survey of charities found 69% of respondents anticipated improved fundraising results in 2016, compared with 2015.  In addition, 50% saw fund-raising receipts increase during the first half of 2015, compared with the same six months in 2014. These findings indicate a relatively robust charitable sector with growing revenues.
But as usual, there are many differences among sizes and types of organizations within the nonprofit sector.  IRS statistics show nonprofit growth in recent years, but a research report by the Urban Institute's National Center for Charitable Statistics found that some did far better than others.  Consider these examples:
43% of environment and animal charities and 42% of international and foreign affairs organizations saw an increase greater than 10% in gross receipts during 2014.  They also showed the most volatility – 35% of international and foreign affairs and 32% of environment and animal organizations reported big losses in gross receipts.
Smaller charities tended to show larger fluctuations (growth and decline) when looking at year-to-year growth rates than larger organizations.
Public charity growth is strong, but is still not back up to pre-recession levels. The median growth rate in 2014 was 2.7%, more than in 2013 and 2012, but less than pre-recession rates of 4-5%
So will these increased revenues lead to higher charity executive salaries in 2016?  As usual, average increases for the sector and even within subsectors are not of much use for those who are tasked with determining compensation levels.  A much more detailed and nuanced analysis is needed.
ERI's Nonprofit Comparables Assessor (CA) provides the data needed to select truly comparable organizations – required by IRS regulations.  The CA user can select criteria – size (based on annual revenues or assets), type of organization (a detailed National Taxonomy of Exempt Entities code), and geographic location – to calculate averages for direct compensation, based on the Forms 990 filed by all organizations that meet the criteria.  Next, a much smaller list of organizations that are closely comparable can be generated for further review and analysis.
In general, the most important determining factor for compensation tends to be size of organization, measured by annual revenues or assets in the CA.  (See this Frumkin-Keating paper.)  In some types of organizations, it may be necessary to use both measures to make sure the closest comparable organizations are considered.  Consider these examples:
Compensation for art and education CEOs also shows a significant association with the level of fixed assets, as well as size of revenues.
Health CEO compensation is not only related to organizational size but also influenced by size of the endowment.
Revenue size is not the most relevant measure of size for foundations – size of assets is more appropriate to use.
Results using a different measure for size could vary widely, as shown in the table below.  Say the search is for appropriate CEO compensation for leading a museum with $25 million in annual revenue and assets of $225 million.  Using the $25 million in revenues leads to an estimate of a CEO salary of about $295,000, while considering the assets of $225 million gives a much higher estimate of nearly $400,000.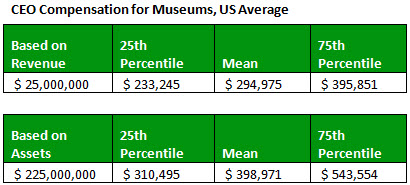 So which estimate is most relevant?  CA users can create a list of the museums closest in revenue size and then a second list using asset size, perhaps a total of 20 organizations, to help in that decision.  Combining the lists will reveal which museums appear on both lists and which have similar relationships between revenue and asset levels.  The user should be able to judge which ones are most relevant to the comparison and determine a rationale for choosing a compensation level for the CEO based on comparable data.  CA provides a way to easily collect all the relevant data on which to base compensation decisions.