Nonprofits classified as Human Services organizations are typically what the public thinks of when nonprofits are defined. According to the National Taxonomy of Exempt Entities (NTEE), the classification system used in the nonprofit sector (learn more at www.guidestar.org/rxg/help/ntee-codes.aspx), the group includes organizations providing a wide range of services, including Crime and Legal Related; Employment and Job Related; Agriculture, Food, Nutrition; Housing, Shelter; Public Safety, Disaster Preparedness and Relief; Recreation, Sports, Leisure, Athletics; Youth Development; and finally Human Services.
While there are one million nonprofit organizations registered with the Internal Revenue Service in the United States, only about 286,000 were defined as charities (tax-exempt under IRC Section 501c3 and able to receive tax deductible contributions) and had enough revenue to require filing a Form 990, the annual IRS information form.  Out of the 286,000 reporting public charities, 35.5% were classified as Human Services organizations, by far the largest NTEE category of reporting nonprofits. The table below shows how this group compares in annual revenues and assets to the rest of the nonprofit sector.

While Human Services organizations are almost 36% of the total of reporting nonprofits, their percentage of revenues (12.5%) and assets (10.5%) represent a much smaller proportion of the total in the sector.  However, these totals mask the wide disparities in size as well as mission among the entities in the Human Services group.  A review of what top jobs (Chief Executive Officer or CEO) pay in these organizations requires a breakout by size and even a more detailed approach on classification.
ERI's Nonprofit Comparables Assessor can be used to calculate average CEO salaries by size and type of nonprofit organization.  The table below compares what the average CEO compensation for all Human Services organizations with $5 million in annual revenues would be and then adds a calculation by subgroup within the Human Services classification.  Recreation and sports organizations of that size are paid an average of 26% more than the average for all Human Services.  What's more, CEOs of Food, Agriculture and Nutrition charities are paid 82% of the average Human Services CEO.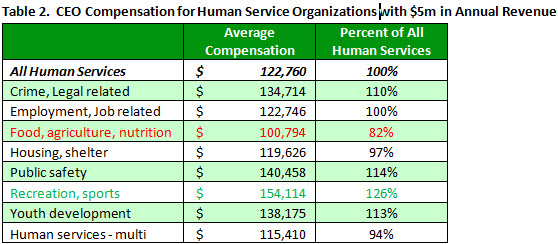 Because of the IRS requirement that public charities set executive salary levels looking at compensation data from similar organizations (typically defined as similar in type of service provided, size, and geographic location), it is necessary to make sure that the data used are actually from comparable organizations.  Obviously a detailed breakout of organizations with similar missions is needed.  Table 2 above does not address the variations in salaries related to different sizes and geographic locations which may also be factors that need to be considered. ERI's Nonprofit Comparables Assessor allows the user to make selections by detailed classification, revenue size, and geographic location, making the data needed to set compensation easy to access and analyze.