Because of changes in the nonprofit sector in the last few decades, researchers Peter Frumkin, PhD, and Elizabeth K. Keating, CPA, PhD, looked at the relationship between compensation levels and certain characteristics of organizations.  Their article, entitled "What Drives Nonprofit Executive Compensation?," is available at the Nonprofit Quarterly and should be of interest to ERI's Nonprofit Comparables Assessor subscribers and those interested in nonprofit executive compensation.
Some nonprofits have reacted to pressure to compensate "more like for-profit companies" by adding variable components to their salaries based on meeting fundraising or program goals or reducing costs.  Often, such goals focus on financial measures rather than social outcomes related to the mission of the organization, so use of variable compensation has been very slow to happen in the sector.  Recent years have brought more for-profit competition in the provision of services typically provided by nonprofits, and some have sought pay comparable to business managers.  But, an even greater influence on pay determination has been the IRS regulations (fully implemented in 2002) that require the use of comparisons to set nonprofit pay to avoid possible sanctions and fines.
The authors conclude that base pay in most nonprofits increases in direct proportion to the size of the organization.  While not a surprising finding, it confirms ERI's approach to providing documentation that is both relevant to the market rates for these executive jobs, but also acceptable to the IRS.  ERI's Nonprofit Comparables Assessor (CA) uses size as a criterion for selecting comparable organizations for salary determination, but also allows the user to add the type of organization and geographic location.  The analysis below using CA explores how just using size may lead to inaccurate results that might not be acceptable to the IRS.
Table 1 illustrates the relationship between average salaries of CEOs and size of organization, as measured by annual revenues.  As size increases, compensation also increases.  But. a look at the salaries for all nonprofits in the US compared to those just in New York State (NYS) shows that geography also has an influence on salary levels.  That influence actually varies based on the size of the organization.  The differential between average US and NYS salaries increases with the size of the organization, from 112% for all nonprofits with $1 million in annual revenues to 119% for those with $500 million.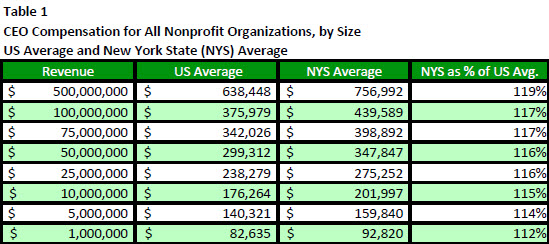 Tables 2 and 3 show that the type of organization is another factor that has an influence on salary levels, using CEO average salaries in the US and NYS.  Looking at Housing/Shelter nonprofits by size, Table 2 again shows that salaries increase with the size of the organization; but, they are also influenced by geographic location and by type of organization.  While the differences between the US and the NYS average salaries for the Housing/Shelter subsector still increase with the size of the organization, the differences range from 108% for the smallest to 146% for the biggest.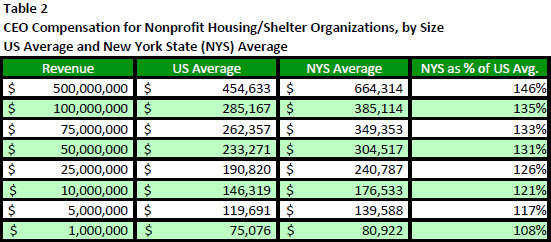 Next, the same comparison is made for another type of nonprofit organization, Human Services, as shown in Table 3.  CEOs of NYS Human Services organizations are paid more than the average in the US, but Human Services nonprofits show a different pattern than other types of organizations with an increase in size. For example, when looking at average compensation in NYS as a percentage of the US average for organizations with $500 million in revenues, we see 119% for all nonprofits of that size, 146% for all Housing/Shelter organizations, and 116% for all Human Services organizations.  For the organizations with $1 million in revenues, the respective numbers are 112% for all nonprofits, 108% tor Housing/Shelter, and 117% for all Human Services organizations.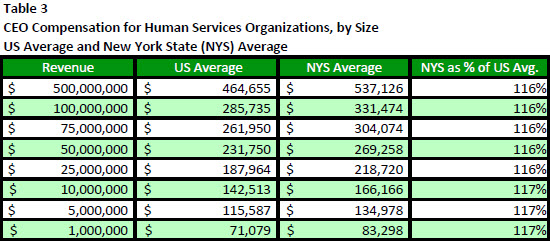 What this analysis reveals is that just reviewing data from similarly sized nonprofits will not provide a good basis for salary determination.  Although size is a major influence, it is clear that geographic location and type of organization are also key factors when nonprofits seek to set their executive pay at levels that are both market driven and in compliance with IRS regulations.