While economists and various pundits endlessly review each new government jobs report for impact on the recovery and growth of the US economy, one trend may have slipped by most observers – the difference in job growth among the for profit and nonprofit sectors.
Close to 11 million workers in the United States are now employed in the nonprofit sector, representing over 10% of the total work force.  While post-recession recovery in the number of jobs has been sluggish overall in the for-profit sector, nonprofit employment was been much less affected and has continued to grow.  The primary reason for the difference is that most nonprofit work is in three fields – health (57%, including 37% in hospitals), education (15%), and social assistance (13%).  As the overall growth in US jobs in recent years has been in service industries, a higher proportion of the jobs created have been nonprofit sector jobs, most of which provide services.  In general, nonprofit employment is concentrated in the growth areas of the economy, while for-profit employment has been concentrated in the fields that have been shedding jobs.
More details on nonprofit employment trends are available in a recent report by Johns Hopkins University's Center for Civil Society. The study reports that growth in health employment has averaged 2% per year from 2000 to 2010, but it differs by field: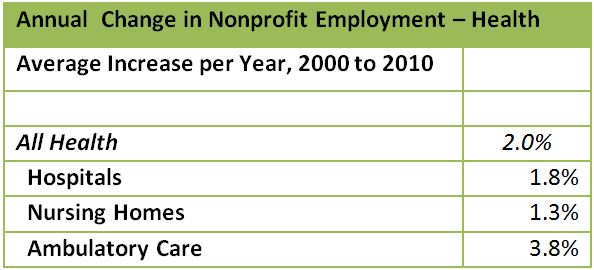 While the number of jobs in certain fields has grown, how has that translated into salaries?  Using ERI's Nonprofit Comparables Assessor, the table below shows the considerable geographic variation in compensation for executive directors of nonprofit nursing homes of different sizes, based on data reported on the annual Form 990.  Remember, this is a census, rather than a survey, because all nonprofit nursing homes are required to file the form with the IRS.

Setting nonprofit compensation requires the collection and use of comparable data, according to IRS rules.  Obviously, depending on the size and the location of a nonprofit nursing home, the appropriate salary for the director needs some documentation, and is easily accessed from ERI's Nonprofit Comparables Assessor.