Setting pay is the responsibility of the hospital board, and those board members must collect and use data from comparable organizations and choose the relevant criteria, most commonly size and location. Using ERI' s compensation data from the Forms 990 contained in the Nonprofit Comparables Assessor, the table below illustrates the wide variation in pay among larger and smaller hospitals in different locations.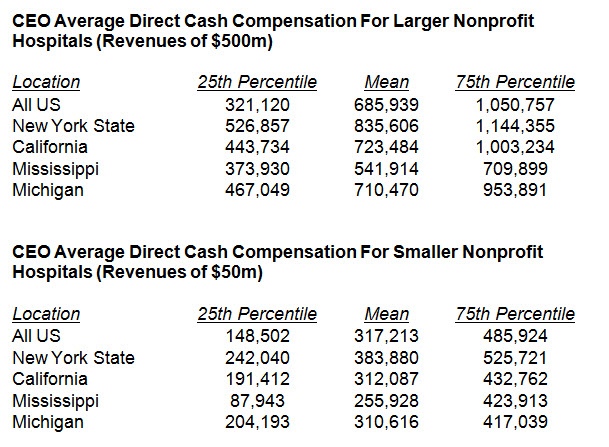 Nonprofit hospitals often compete for executive talent with other industries and other sectors (there are both government and for-profit hospitals, of course) and they need all relevant data to set market rates.  Size still seems to have the most influence on compensation –  the bigger the hospital, the more complex it is to manage.
Currently, experts in the health care sector are focused on adding quality of care factors to the compensation determination process and such criteria may grow in influence as boards react to this pressure to pay based on patent outcomes.  A recently-published Harvard study of compensation of CEOs of U.S. nonprofit hospitals found the highest salaries were in larger, urban teaching hospitals (median pay of $1.7 million annually), while top executives in small rural non-teaching facilities were paid much lower (median of $118,000). The data on 1,877 CEOs at 2,681 hospitals came from seven data sources, including Forms 990.  The authors were trying to establish a link between compensation levels and mortality rates for the hospitals – that the CEOs were rewarded with higher pay if there were fewer deaths in their hospitals.  What they found, however, was that pay was higher for more hospital beds, for more use of advanced technologies, and for high ratings on patient satisfaction surveys.
As insurers and government programs such as Medicare are working to link compensation to the quality of care, doctor pay seems to be more influenced by quality scores; however, that trend is not yet evident for hospital CEO pay.  As the tables above show, CEO pay is really influenced by size and location of the nonprofit hospital.  Until there is more evidence of the use of additional factors, the Nonprofit Comparables Assessor can provide the most relevant market rate estimates of compensation, with its choices of size and location.  The software also provides easy access to the source Forms 990, which may provide more detail on additional criteria used to set salaries.