Contact:
Linda Lampkin
PH
877.799.3428
linda.lampkin@erieri.com
Executive Compensation and Company Revenues Both Grow at Double-Digit Pace
REDMOND, WA
-
2/13/2013 12:00:00 AM
-
Total compensation for the highest paid named executive officer in companies in ERI's Executive Index increased 14.7% from this time last year (Table 1). Over the same 12-month period, revenue of the companies in the Index rose 10.9%. This is the first quarter since late 2007 that both top executive compensation and company revenue showed year-over-year gains greater than 10%.
This also continues a trend of increasing total compensation in the quarters since May 2012 and an acceleration of the growth from the November report of 8.5%.
ERI tracks executive compensation in sample of publicly traded companies across an array of industries specifically selected to identify current trends. Highlights from the February 2012 to February 2013 analyses follow:
Total Overall Compensation for the highest paid executive increased 14.7% to $20.2 million per year
Base Salaries rose 1.7%
Bonuses and Non-Equity Incentives declined 15.8%
Restricted Stock Awards (RSAs) rose 35.4%
Company Revenues rose 10.9%
Executive compensation typically consists of several components – a fixed base salary, a variable cash (discretionary or based on meeting performance goals), and a variable equity payment in stock (either restricted stock awards or stock options) based on stock prices. Pension and other compensation components are added to the compensation package for these top executives.
Despite the double digit increases in company revenues and overall compensation, the variable cash component of the compensation package has been decreasing at double-digit rates over the past several quarters (Figure 1). Also for the companies included in the Index that have reported FY 2012 compensation, Stock Awards and Options Awards account for a much larger proportion of the compensation package than in recent years, up to 70.8% from 56.8% in FY 2011 (Figure 2). It is possible that this shift from cash bonuses to equity awards is a result of shareholder activism to align the pay-for-performance programs with long-term strategy and sustainable results. In recent quarters, the companies may have also faced fiscal restraints that limited short-term cash plans. Although there are several possible explanations of why this shift has occurred, the end result is that the equity component of overall total compensation continues to be the primary source of income for these top executives.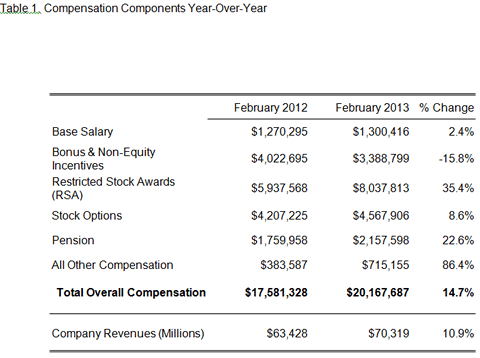 Figure 1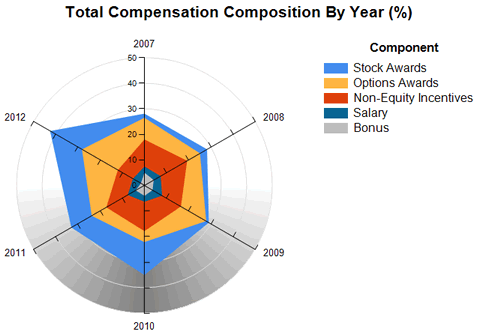 Figure 2
About ERI Economic Research Institute: ERI Economic Research Institute, Inc., is a leader in compensation and job content information. With data gathered from online surveys and an extensive survey library, ERI's staff of researchers provides subscribers with assessments of salaries, relocation costs, cost-of-living comparisons, and executive compensation. ERI's compensation databases contain over 20 years of collected data, covering the United States, Canada, the United Kingdom, and other countries throughout Europe. ERI subscribers include the majority of the Fortune 500 and thousands of other small and medium sized companies. ERI's products include the Salary Assessor
®
, Geographic Assessor
®
, Relocation Assessor
®
, Executive Compensation Assessor
®
, and Nonprofit Comparables Assessor
™
software and Occupational Assessor
®
, eDOT
®
. For more information about ERI and its products, visit
www.erieri.com
.
###